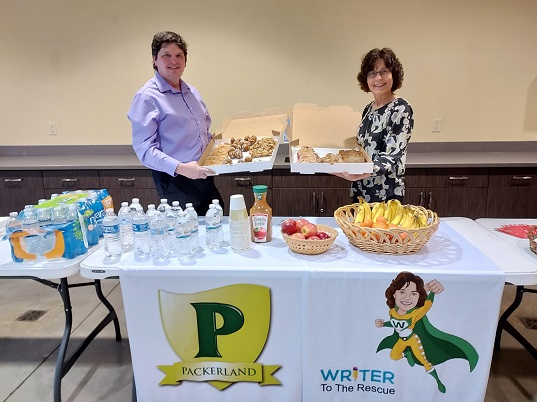 An interesting email recently popped into my inbox. A minister in the Fox Valley is considering a career change. He wants to be a professional writer and asked me for advice to get started. Before I contacted him, I reflected on my career as a professional writer. I hope this advice helps people in any industry who are considering a career change.
Partner with an established business
As the content writing division of Packerland Websites, I have a steady stream of customers funneled my way. When a business or nonprofit builds a website, the organization often needs text on the webpages. I interview a company rep and write original, brand-specific website content. I also edit newsletters and marketing content for our shared clients. Plus, I assist Packerland Websites with its marketing. In return, the Packerland Websites' team helps me manage my business and provides technical support. The partnership works well for both Writer to the Rescue and Packerland Websites.
Meet with a business coach
I met with Dave Kaster of Fidelis LLC, Certified Business Advisory Services. Dave helped me create a mission and vision for my writing business. More importantly, he helped me develop a profitable business model and strategies for pricing, invoicing, marketing, etc. Ultimately, I gained the confidence I needed to make a career change.
Network with small business leaders
Some job leads stem from Google searches. "I Googled you" is always fun to hear from new clients! However, a majority of leads come from established relationships. Packerland Websites belongs to six chambers of commerce and business networking organizations. My husband, Bill, owner of Packerland Websites, and I co-sponsor the Greater Green Bay Power Networking Breakfast on the first Tuesday of the month. For years, Bill was active in BNI (Business Network International). Networking isn't confined to business organizations. My first client hired me because he was familiar with my talent as a newspaper editor.
Write a lot, and read a lot
Natural talent goes a long way, but practice makes perfect, right? I learned to write in elementary school, but that was just the start. I continued to study writing in school, eventually earning college degrees in journalism and social media marketing. Even after 15 years of writing professionally, I'm still learning about new techniques and tools to improve my writing.
Respect your clients
The cost to acquire a new client is estimated to be seven times higher than retaining a current client. Once you attain a client, focus on retaining that client. Provide quality work, on time, and at the agreed-upon price. Answer phone calls and emails promptly. Bring value to the relationship by being attentive to clients' needs and appreciative of their trust in you.
Find a writing niche
Think about your interests and find ways to capitalize on them. I'm the content facilitator for two Catholic magazines, and I write business management articles for a national trade magazine. A while back, I met a freelance writer who collected dolls and wrote articles for a doll magazine. Write about what you know about, and the writing flows more easily.
Diversify your services
When I launched Writer to the Rescue in 2017, I pitched a variety of services to clients. Then, I modified my services to meet demand. In addition to blogs, website content, newsletters, and news articles, I've written grant proposals, whiteboard scripts, and even the text for a wedding invitation.
Considering a career as a writer?
In May 2017, Writer to the Rescue took flight. As the Wonder Writer, I'm saving the world one word at a time. I wonder how many words I've written in my career and how many words are yet to be written. To the minister from the Fox Valley, I hope these seven tips help you decide if a career in writing is for you. Godspeed!